Think dental implants are a recent idea? Think again.
If you think dental implants are a recent idea, think again.
The photograph below shows an attempt to replace missing mandibular incisors with cuttlefish shell implants, during the Mayan period in Central and South America, over 1400 years ago.  Unfortunately, this individual likely succumbed to a combination of a foreign body reaction and microbial infection.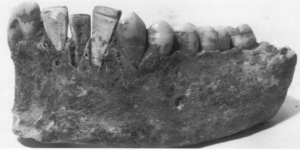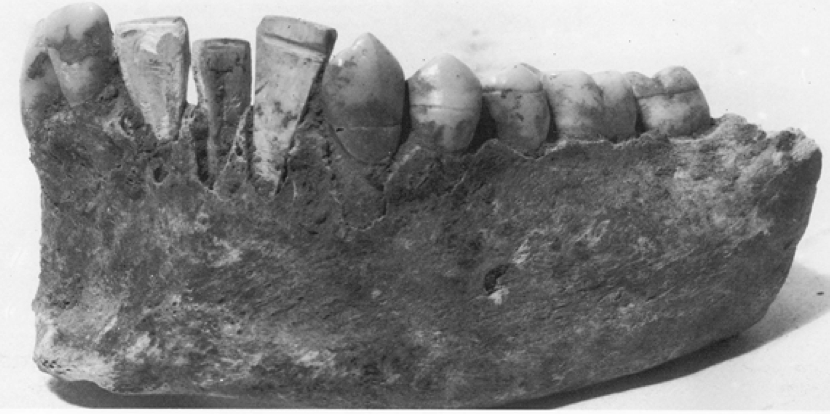 The advent of osseo-integrated implants has made it possible to manage full or partial edentulism in a manner that results in acceptable functional and aesthetic outcomes. The success rate of these implants over time is high, with more than 90% retention of individual implants after five years being reported. From experience, we know that implants can remain integrated over even longer periods.
Implant failure has received considerable attention in professional literature, but research into the complications related to the incidence, nature and effect of prosthodontic failure has had limited exposure. Coupled with the good prognosis for implant retention, the maintenance and management of the prosthodontic component is becoming an ongoing consideration.
Clinicians are often presented with this scenario: patients present for treatment of complications with  implants and the prosthodontic components. They will, for various reasons, not always seek treatment from the clinician who performed the procedure initially, and frequently present without any information pertaining to the implant and/or the restorative components. In order to attend to these problems, the clinician has to obtain the required catalogue information. Bear in mind that the current estimate is that there are more than a thousand implant manufacturers worldwide, each with its own component catalogue. Trying to obtain the relevant information in a timely manner can prove very challenging.
The answer lies in an accessible, central database of patient implant particulars, containing the required information for re-treatment. Such a database has been created in MyDentalImplantRecords.com. The treating clinician enters the procedure details and components used, and attached automatically to these details is information pertaining to the fixture (manufacturer, tapered, cylindrical, etc), the connection (external hex, internal hex, etc) and the instruments required to manipulate the particular screws (hexagonal, flat, etc). Manufacturers can add new fixtures directly to the database, so new products are immediately catalogued and ready for patient use. Particulars of more than a hundred implant systems have already been catalogued, with hundreds more soon to be included .
This service is web-based, so the information is available to participating patients and dentists, wherever they are and whenever needed, provided the data has been recorded by the treating clinician. Apart from the patient particulars, all information can be captured with the click of a mouse. One can easily and securely share patient data if collaborating with another practitioner, directly from the application.
MyDentalImplantRecords also monitors the growth of the practice by categorizing implant use by type and manufacturer, and comparing  incidence of treatment to that of previous years. It's a comprehensive, easy-to-use, and invaluable tool that can help to better manage resources and reduce redundant efforts – both in record keeping and communication between practitioners.  To find out more, signup for a free trial.