You can send an implant record by e-mail to another practitioner or to the patient quickly and easily. Here's how:
From your dashboard, select "My Patients" to view your patient list.

Locate the patient whose record you would like to send, and click on the eye icon to open their file.

To the top right of their details summary, click on the arrow icon.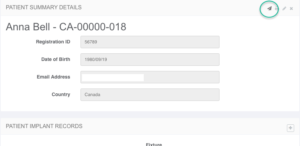 This will open a floating window. Enter up to ten e-mail addresses separated by a semicolon, then your message. When you're satisfied, click "Send Email". The recipient/s will receive your message with the implant record attached as a .PDF file to make saving and printing the record easy.